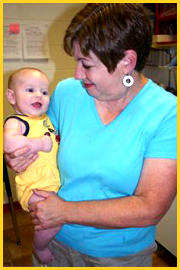 The teachers at Smoky Row are absolutely wonderful. They are well trained, warm, nurturing and innovative. They provide a wide range of activities that truly capture the children'sinterest. Smoky Row is a calming and welcoming environment, which is modeled daily by both teachers and administrators. Everyone on the staff is dedicated to putting children first. SRCC prides itself on having a family-like atmosphere. This is evident the minute you step into the center
. — Yvonne L.
What I love most about Smoky Row is the caring, nurturing environment. Both of my daughters absolutely love "school" and I know it is because they have such strong relationships with their teachers. The Center's developmentally appropriate curriculum and philosophy allows for all children to succeed, as well as leaves plenty of room for continued growth. — Gina P.
Smoky Row has provided a wonderful preschool program for our son. His teachers do a great job providing and organizing a variety of educational activities that he enjoys. As working parents picking up a happy and positive child at the end of the day makes our day! We can't thank the staff enough for all that they do! — Kristen K.
Entrusting your young child to others is never an easy thing to do. Choosing childcare is one of the most important decisions parents have to make. Making the choice to send our daughter to SRCC's Preschool and Kindergarten is a decision we have never regretted. Our daughter has been loved and cared for by the wonderful staff of Smoky Row in ways we could not have imagined! She has been taught to love learning, encouraged to respect others,
and been given the freedom to have fun. Smoky Row has made our life as parents easier! We highly recommend SRCC to everyone. — Teri and Bret R.
Most importantly SRCC has become a second home to our children who are 4 1/2-year-old twins. In fact, our whole family really feels "at home" there. I feel welcome to be very involved in what is going on in both of my children's classrooms. All of the teachers have done a fabulous job of building relationship with us as parents as well as with the children. The staff has welcomed us and helped to make our experience very comfortable, happy and an encouraging place for children to learn. — Nancy G.
We have always appreciated how SRCC emphasizes teaching the children to treat each other with kindness, respect, and tolerance. The teachers and staff at SRCC are top-rate, best in class! — Diane B.
Smoky Row has been an absolute Godsend for my girls and me. The teachers and staff create a truly special environment for the kids. They not only genuinely care for my girls but they are interested in being a part of the solution to any of childhood bumps we run into along the way, from potty training to eating habits. They not only help to develop what's in their heads, but more importantly, they help develop what's in their hearts! — J.C. Rice
Having our children at Smoky Row has been a fabulous experience. The teachers are well trained with a long work history at the Center. They provide the perfect mix of educational and fun activities. Our children love going to "school" and have become independent, creative and respectful thanks to Smoky Row's philosophy. We consider the teaching staff an extension of our family. — Karen and Russell H.
We love Smoky Row Children's Center! Our children are excited every morning to get up and go to "school" In the last six years we have gone to work knowing our children are in good hands. We have always believed it takes a village to raise a child. We are so thankful that SRCC is part of our village.
— Jane S.
We couldn't dream of a better place for our children to spend their preschool years playing and making friends in the care of such wonderful teachers that guide play centered learning balanced with just the right amount of safe rules. The facility is designed perfectly for free, safe and spontaneous play. — Betsy and Bob B., Joe and Anne's parents
Our daughter loves Smoky Row! As her parents, making the choice of sending her to a children's center was very difficult. But now, after four years at SRCC, our choice has been reaffirmed. She has learned to love, compromise, communicate, share, sing, read, and most importantly to be a good friend. —
Kirt and Nicole M.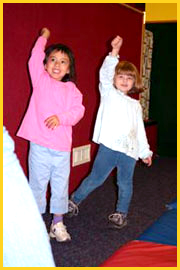 At Smoky Row I have lots of friends in all of the rooms. — Joe B., Kindergarten Class
I miss Smoky Row. I have lots of really good memories of being there. — Anne B., 5th grader